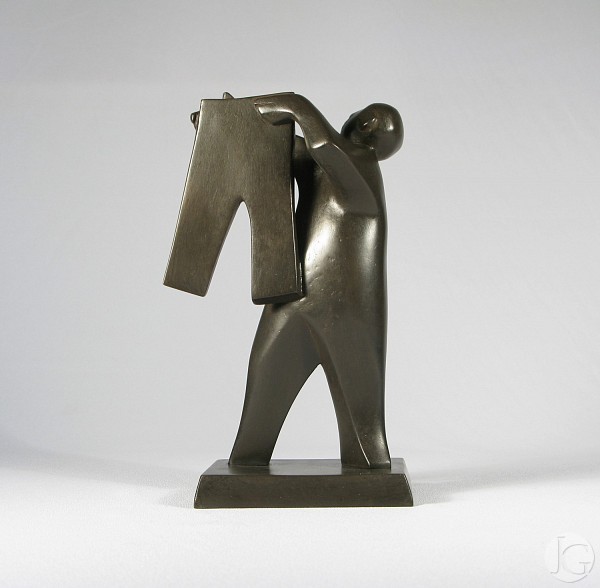 Born in 1962, Giles Penny is a British sculptor and painter. With his characteristic large, sturdy, strong, often grey, forms and figures, his paintings and sculptures are instantly recognisable. In his own words - "My focus of expression is the human form, which acts as a vehicle to explore the interaction between physical and abstract worlds. I use various media including clay, wax, plaster, wood, and resin to originate sculptural forms, which usually result in a bronze cast…. Over the years I have equipped my workshop with the tools and materials needed for turning my ideas into reality. This enables me to operate with little procrastination and get stuck in to the 'making'; different areas are set out for drawing, painting, clay, plaster and metalwork. I work from 9 to 5 each day, outside those times when I am not at work I think about work."
Penny attended his first ever art class at the age of eight, which "provided a springboard to investigating ideas about the world in a more personal way". After leaving school aged 16, Penny moved from Dorset to London to do a foundation at Heatherley School of Fine Arts in Chelsea and then went on to study in Bournemouth and finally Newport College of Art, where he gained a BA. "I had the misconception that I would be doing painting and drawing, but I was thrown into the deep end. We made art films and installations. It was very interesting."
Today, Penny works mainly in painting and sculpture, as well as some printmaking. He explains, "I think about how something could look, and how an idea can translate into something visual." His work explores ideas around the nature of human beings, as well as humans' relationship with nature and how we fit into the environment.
Please check with the Gallery that these Editions are still available to purchase
---