 PAUL NEWLAND
R.W.S., N.E.A.C.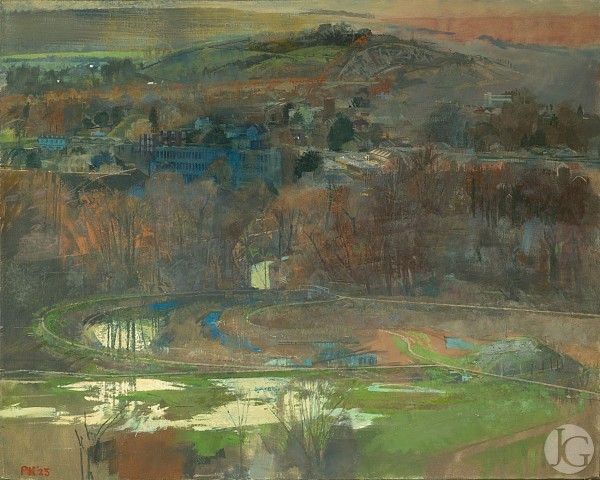 Paul Newland is exhibiting with 15 invited members of the NEW ENGLISH ART CLUB in our Christmas Exhibition, on view to 22nd December
Paul Newland was born in 1946 studying at the Slade School of Fine Art (1965-68). Following which studied for a year abroad on a French Government Scholarship and then for a year in Rome from 1975-76, where he started exploring watercolour, which became his chief means of expression for many years.
"Whilst living in Rome I fell in love with the glow of simple, unmixed watercolour, leaving out as much of the water as possible, and laid down in rich washes. The medium was useful for recording changing light and architecture in direct, simple ways…..Later, I found it useful for making images of clubs and street scenes in London, done from memory; later still, interiors and cityscapes were the subject matter. My use of watercolour became less direct, more complicated and subject to revision."
In 1989 he was elected a Royal Watercolour Society Associate, and a full member in 1994. He went on to serve as Vice-President and as Honorary Curator at the R.W.S. Paul was elected to the NEAC in 2004.
Living in East Sussex where his work is inspired by the areas where landscape and townscape meet. He works en plien air as well as in the studio, combining the observed, the remembered and the imaginary. Paul is fascinated with the 'give and take' of urban and rural visions, the merging and flux at the edges.
---